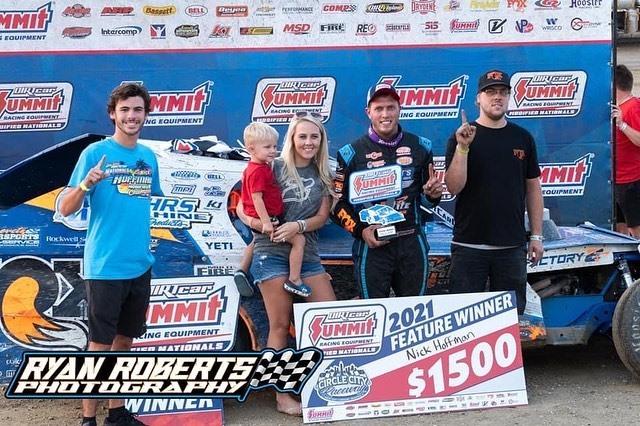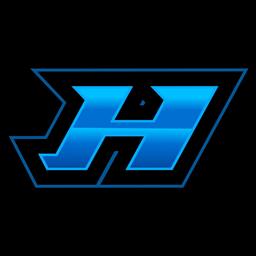 ---
Hoffman enjoys record breaking week with four more triumphs
It didn't come easy but Nick Hoffman was able to stay perfect in 2021 Summit Racing Equipment Modified Nationals on Wednesday night with a $1,500 triumph at Indiana's Circle City Raceway. After winning his heat race, Hoffman drew the third-starting spot for the feature and pursued early front runners Tyler Nicely and Dylan Woodling. Nick raced past Nicely into the second position in the early stages before taking over the lead, when leader Woodling slowed on lap 5.
Surviving a late-race scrape with lapped traffic Hoffman was able to keep Nicely at bay in the closing laps to bank his 13th-straight series win and his 24th overall victory of the season. The triumph pushed his career-series win total to 51.
"I was really worried about that redraw," Hoffman said in Victory Lane. "Obviously, I had to pass somebody tonight, so Facebook should be pumped up about that. Crew member [Shawn] showed me I had a pretty decent size lead, and then it went to nothing. I could see [Nicely] down there, and I just had to use that one lapped car up off of Turn 4… I gotta go, ya know? They're having their own race, you can't blame them for that. It's just, at some point, you gotta go, and I got a little aggressive with him and tore it up a bit."
Tyler Nicely, Dillon Nusbaum, Tommy Sheppard Jr. and John Demoss rounded out the Top 5 at the checkered flag.
Thursday night was a historic outing for Nick Hoffman. He broke his own single-season record of 14 Summit Modified Nationals wins with a triumph at Michigan's Thunderbird Speedway. For the second-straight night, Hoffman raced from the third-starting spot to the lead and ultimately the win. The victory marked his 25th overall of the season.
Curt Spalding, Jeffery Ericson, Hunt Gossum, and Jacob Poel completed the Top 5- finishers.
Friday night's event at Hartford (Mich.) Motor Speedway was nixed by rain, and the team shifted their Saturday night plans to a $1,500-to-win FALS Cup event at Fairbury (Ill.) Speedway. A talent-laden field of 45 entries were on hand for the program, and a second-place finish in his heat race positioned Nick seventh on the starting grid for the feature.
On a technical race track, Hoffman found a line that worked for him as he worked to the lead and ultimately the victory, which was the 26th of 2021. Tyler Nicely, Nick Clubb, Jacob Poel, and Kyle Steffens completed the Top-5 finishers.
Closing out an unbeaten week of racing on Sunday night at Terre Haute (Ind.) Action Track, Hoffman started his outing by setting a new track record in qualifying over the 35 entries with a 22.077-second lap around the half-mile oval. He proceeded to win his heat race, which sent him to the redraw for the feature, where he pulled the fourth-starting spot.
In the main event he quickly worked his way to the lead before driving away from the field for his 15th Summit Racing Equipment Modified Nationals victory of the season. He's now tied with Mike Harrison atop the all-time series win list with 53 triumphs.
Will Krup, Kyle Steffens, Kenny Wallace, and Richie Lex completed the Top-5 finishers.
Back to News